8/10/2009 - 8/16/2009: 54.4 km - 5:34
Feels good to be back. When my fracture happened a number of people thought I would be bummed and go crazy not being able to run, that did not happen. I needed the time off, as I had stated before, and I am finding myself mentally and physically ready to start training for Rock and Ice. I still have a ways to come back, and still treat each run carefully, but the confidence and the conditioning is starting to return.
It was a good week, building on last week, adding running skills and getting seriously back to the trails. It started with the final Beaverchase race of the season, and ended with a great, but hard 2 hour run in Frontenac park. I had no expectations for the Beaverchase race, so running the 6km in 26:20 was just fine with me; with the heat and lack of conditioning, it was a pretty good showing. Kim and I really enjoyed Frontenac Park, even though the drive was a little longer than heading to the Gatineaus. We hope to get back in the fall, staying overnight at the
Stepping Stone Inn
.
Here is a couple of shots of Kim working hard to keep ahead of the Deer Flies in the Park.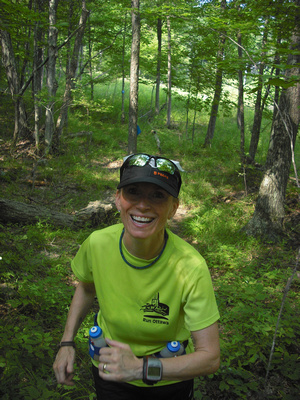 Mon - Noon weights and core
Tues - Noon weights and core, PM 53' (Beaverchase)
Wed - PM Running Skills 47' (3' barefoot)
Thu - AM Hills 49', Noon weights and core
Fri - Noon Arc Trainer 20' + shopping at the T&L warehouse sale
Sat - AM 1:00 Trails, 5' barefoot, 1:05 Bike
Sun - AM 2:00 Trails (Frontenac Park)