10/26/2009 - 11/1/2009:
80.3 km
7:13:07
First welcome back to Sara and Derrick from their first trip to the Rockies. I knew you would love it and never want to come back. Sara has posted a few amazing shots on her
blog
and Derrick on his
So the week in summary. Tuesday was a progressive run starting at 4:40/km and working up to 4:10. I did way better than I thought. Thursday was a tempo run on an easy trail, felt strong. Saturday was slogging through the Gatineau trails with pack at 7lbs in the rain, wind and mist, very tough hills and rocks and streams.
Couple of pics from Saturday.
In the mist
Water running down the trail
I was wasted after Saturday's run, but come Sunday the legs were not too bad and managed a respectable 1:34 run.
So I am in the strength phase now and as a result have just finished building my own Bubba - but mine is named Kegger.
1st pull in the backyard in fashionable guitar hero pants and mickey crocs .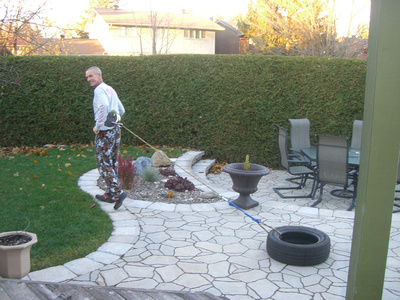 So the pack is feeling good, doesn't seem to affect too much while running, but I can definitely feel is post run - tired.

No more to add