9/28/2009 - 10/4/2009: 79.0 km 7:11:00
Well after last week's not so stellar performance, (1st week with puppy Strider), and Sunday's bagged run (Kim and I were both physically exhausted), this week it was time to get back at it. I am still trying to figure out schedule with puppy, so no doubles yet, but I'll get there. I did manage to add two days of elliptical workouts on my non-run days.
However the highlight of the week was discovering two new trails. The first wasn't new, I ran there before about 18 months ago, but not been back. It runs from P21 - just a short drive from work - to the Mer Bleue Bog (peat moss bog). The trail is only 3.5km (so 7km loop), but it is a nice mix of everything.
The second trail Kim and I discovered on Sunday. Looking at the Greenbelt trail map I found quite the group of trails leading off the Trans Canada trail not too far from home. So Sunday we headed across down the Trans Canada trail, and hung a left just past Moodie Drive. After a couple of wrong turns we get on track and discover the most wonderful network of trails, and then we come across this sign.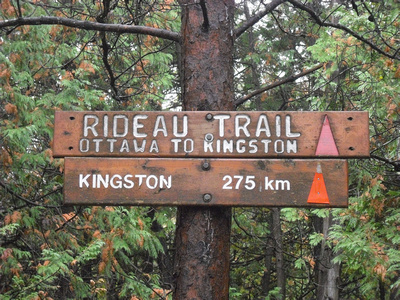 Doh!!! So this is where the trail is. So this is killing me. We have discovered this wonderful trail system, almost out our backdoor (just a painful 4km on roads/paved pathways). Where to do long runs is no longer a question. We are really looking forward to next Sunday's run.
I did do most of Sunday's run with my backpack. Not loaded down, just water and a couple of small items, but it felt heavy enough. Still not comfortable with the water bottle access with it, so need to tweak that. Anyone have any idea what a "good" weight for the backpack might be 8,10, 15lbs?
Mon - Noon 40' Elliptical
Tue - AM 1:20
Wed - Noon 50'
Thu - Noon 1:13
Fri - Noon Elliptical
Sat - AM 1:07
Sun - AM 2:09 (trails with Backpack) - AM 32' (easy on pathway)